The simple 3-Step learning approach of BM101 Learning Pad:
BM101 电子书包简单3步学习法 :

"Learn"
– Study guidance/ tutorial after school plus total understanding of the KSSR Textbook makes the most thorough in study explorations.
"学"课后辅导, KSSR课文教材全解 → 最深入的学习探讨
"Explore" – Glossary vocab enhanced with shrewd change & mastery of grammar results in the high score of writing essays.
"Test" – Test papers from outstanding schools, Standard 1 – Standard 6 Exercise Tests help Chinese primary school pupils to easily achieve high scores.
FREE
Eight learning areas:

1) Grammar Classroom

Include grammar learning features of Malay, English, Chinese, Japanese, and Korean.

2) Common Mistakes

Understand common grammar mistakes of the three languages to prevent recurrence.

3) Making Sentences

Exclusively contain more than 2000 practical sample sentences, help you to master commonly used sentences.

4) Writing Lesson

Include essays in three languages which are based on UPSR standard format and provide a variety of sample essays for reference.

5) Examination paper Series

Provide 113 sets of the latest high quality mock examination papers which are authorized by Pelangi Pulisher to enhance ability of the candidates.

6) Examination Dictionary

Provide exclusively developed examination dictionary for candidates to search the information, related topics and similar topics easily by entering the keyword.

7) Reference books of five subjects:

Include all major teaching subjects in the schools, digitized and presented the black and white contents colourfully.

8) Video Classroom

After mastering a series of learning, we can also practice speaking through interactive video and audio lessons.

Additional Malay Tips

Contents are divided into three UPSR categories, Tatabahasa / Pemahaman / Penulisan, practical, easy to learn and effective.
Sound animated teaching, bi-directional explanations, answer techniques, interesting learning game.
Provide help for vocabularies, key points of the questions, answer tips, exercise analysis.
配置
1) 大屏学习,超清护眼效果非常赞,配件升级,更大更快更好。
10.1 英寸
1280 x 800 分辨率
IPS 重护眼卫士
高通骁龙 (Snapdragon) 64 位核处理器
2) 电池超长续航,五天连续学习不打烊。
3) 大容量存储,海量学习内容,学习永不停止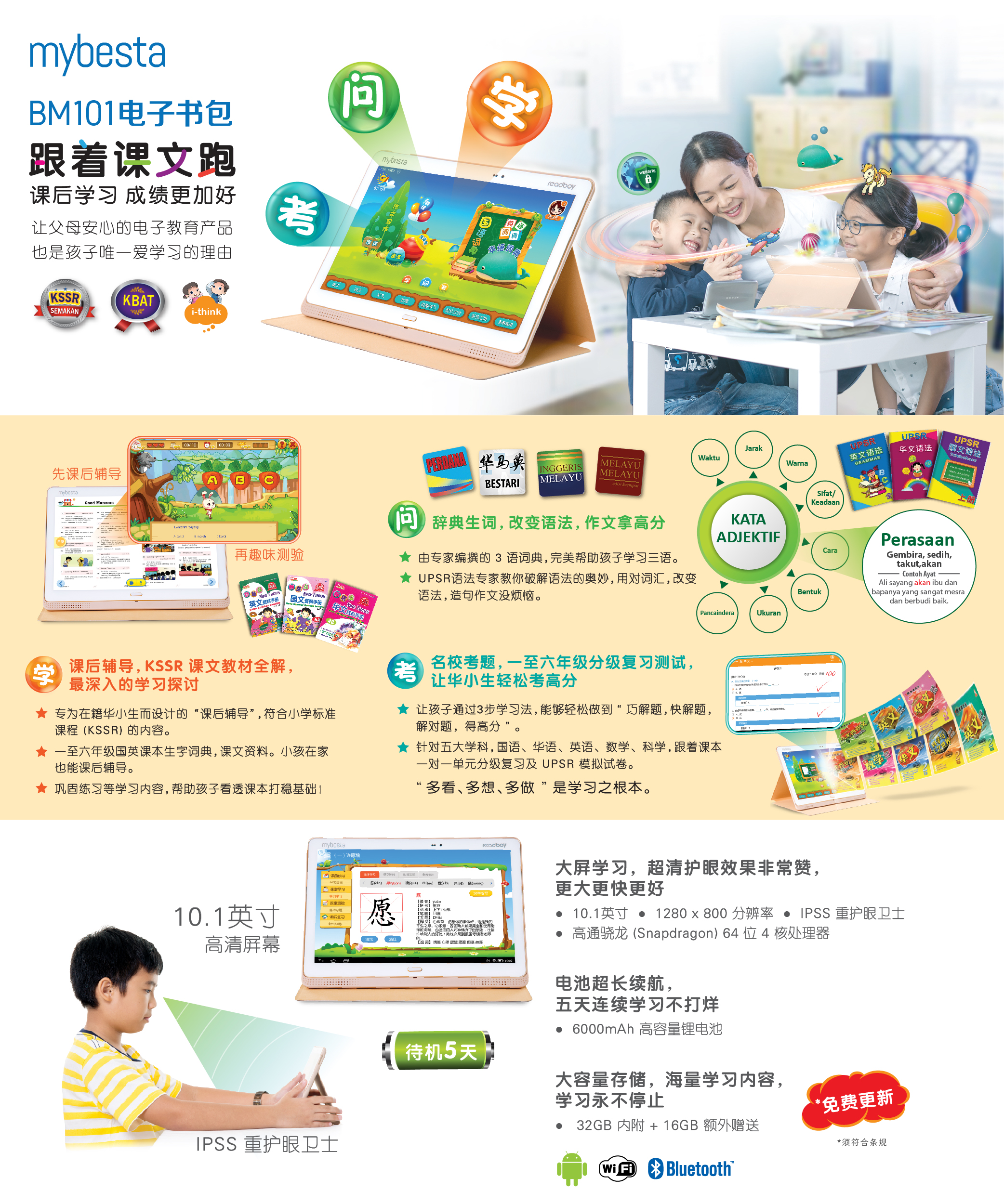 Specifications
Screen Resolution
800 x 1280
LCD Screen
10.1″ IPS Screen
Device Color
Champagne Gold
Screen Color
WXGA Color Screen
Internal Memory
RAM 1GB, ROM 32GB
Slot Setting
Micro SD
Battery
6000mAh Lithium Ion battery
Connection Interface
Type-C
Handwriting
Yes
Sentence Translation
Yes
Real Human Tutor
Yes
Live Voice Real Human Pronunciation
Yes
Pronunciation Comparison
Yes
Chinese Input Method
-
Pronunciation Content
-
Accessories
Charger, Type-C Cable, Casing
BM101 电子书包 + CD576M 电子书包 + NSD58 Learning Card 精英秘笈学习卡
Brand: Besta
Product Code: BM101
Availability: In Stock